Cinelli Quaderni: Road Bikes 2023
03 February 23
Meet Vito, 34 years old, professional skipper living in Genova, ex-fixed gear obsessive and "star" of the very first Cinelli Quaderno, dedicated to our 2023 road bikes.
Vito, 34 years old, is a professional skipper.
Born and raised in the nearby seaside town of Rapallo, he lives and rides (when he's on land) in Genova.
In certain cycling circles he is famous for creating Italy's most prestigious fixed gear race, Respvblica. Held between 2016 – 2019 (and perhaps returning this year), Respvublica is a fixed gear only race in around the labyrinth that is the city of Genova.
Designed to mix velocity with climbs with traffic jams it was a race with what in wine-making they call terroir, an entirely unique perfume or flavour that reflected the extraordinary geography and culture of Genova and its surrounding landscape.
We met up with him near his house very early on a crisp early December morning to document a ride in and around his favourite Genova riding spots together with his friend and mentor, Daniele.
For Vito, as he explained to us that morning in his own words as we set up the bikes, "for five years, between 2011 and 2016 me and friends rode only track bikes with no brakes. We were fundamentalists of fixed gear cycling. For us no other bike existed.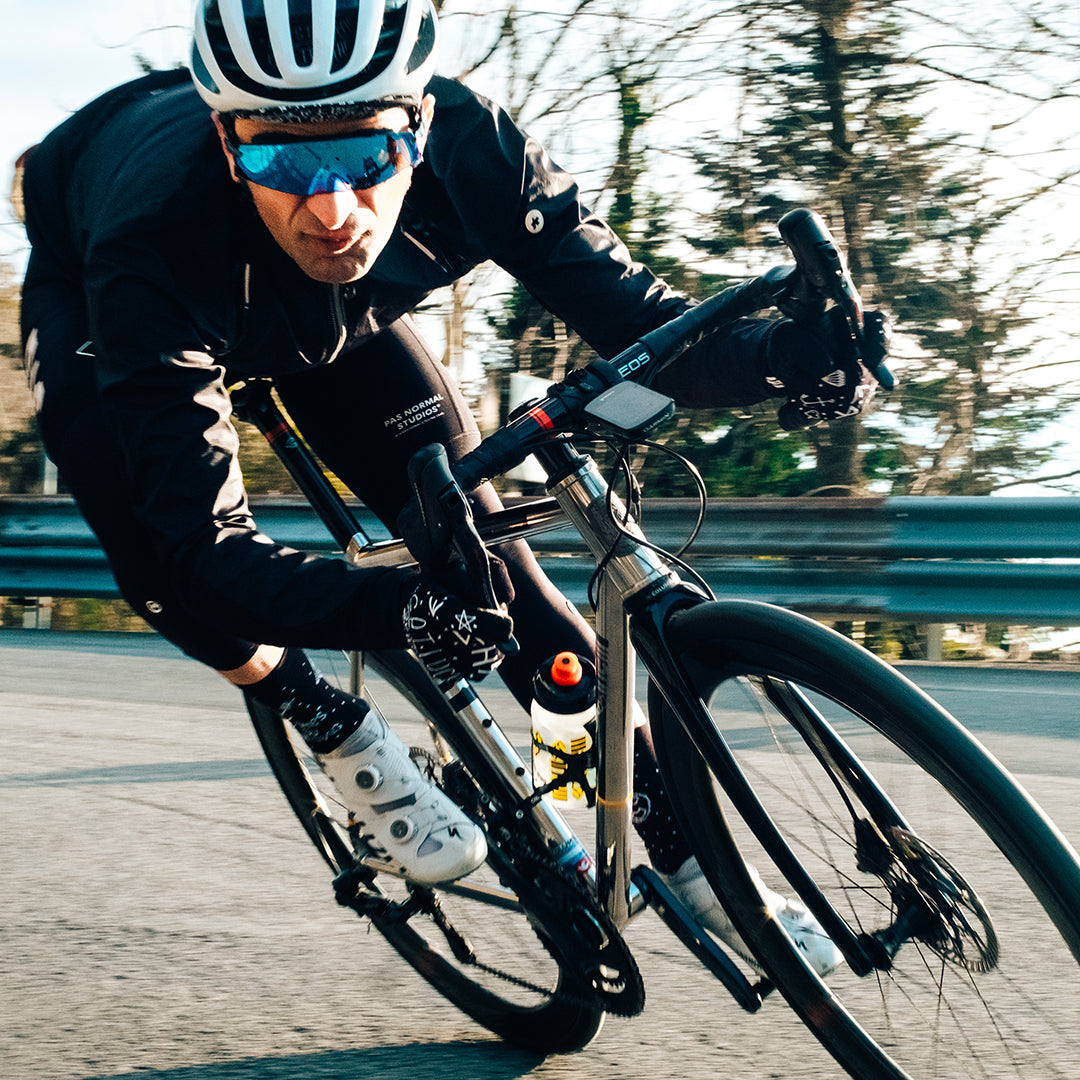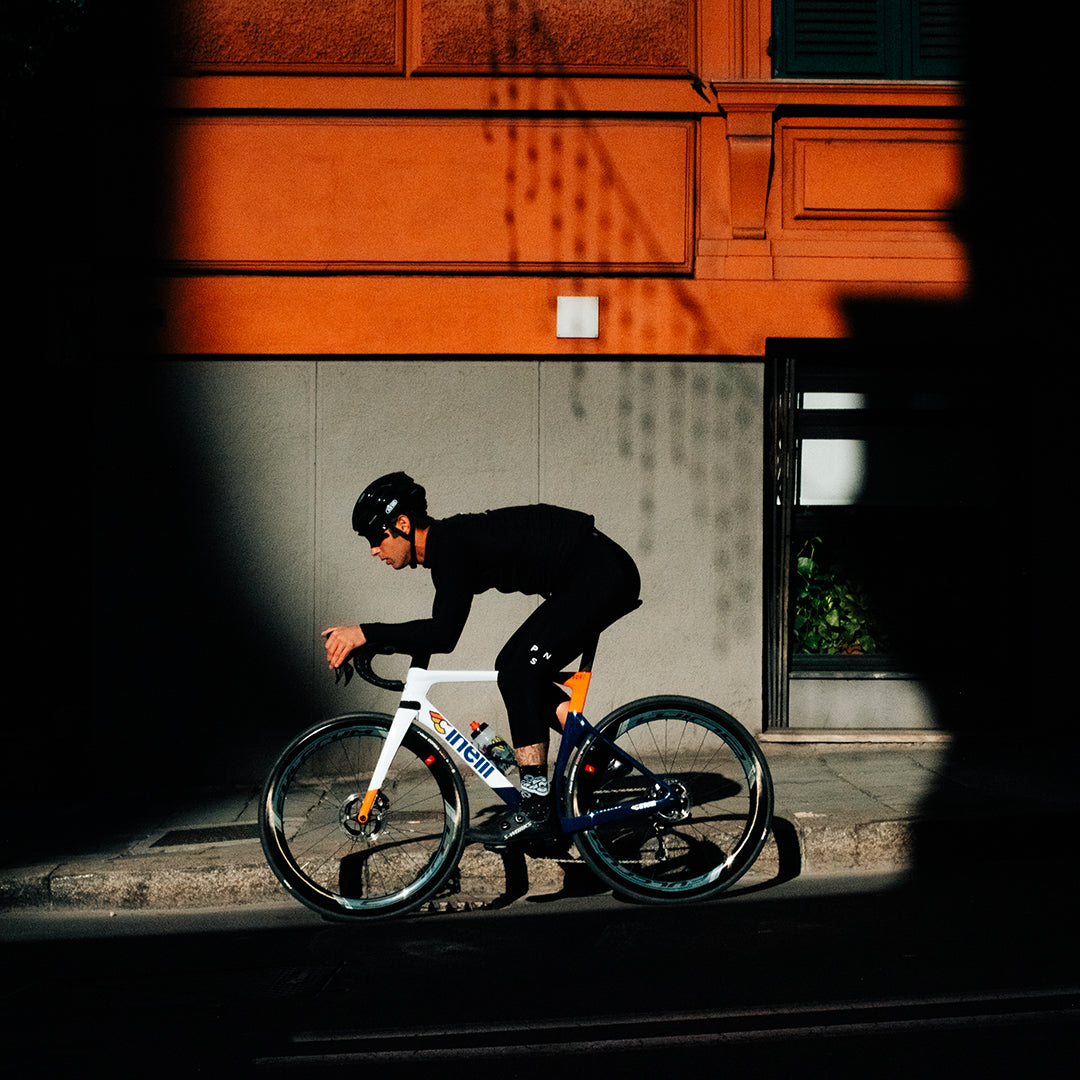 People who rode bikes with brakes were… [LAUGHTER]. Better not to say what we thought!""But," he continues "little by little I realized that what I liked about cycling was SPEED.
I liked being the fastest thing in the city. Realizing this was a turning point… I acquired a road bike, I began frequenting roadies amongst whom Daniele…"Daniele, who is an extremely graceful highly rated local rider with victories last season in important hill climbs, is also a student of the sport and its equipment.
As Vito explains to us "Daniele is somebody with whom I share a lot of obsessions. And it was him that taught me about road cycling, who gave me advice on how to nurture my ability, my 'fibers' as they say in Italian cycling slang.
With him there's never competition, or if there is competition it is the kind that feels healthy. Because in road cycling there tends to be an obsession I did this in this specific time with these watts etc. etc. Daniele never made a big deal of being faster than me at climbing or anything else… so I've learned a lot from him."
At a café stop in the picturesque suburb of Pegli, before climbing the mythical (at least for Genovese riders) Monte Faiallo, Vito further elucidates: "Road cycling and road bikes have changed me. They've allowed me to overcome a lot of limits, above all mental but also physical.
It's like a mantra or a therapy. More than the results I might achieve, what I love is the process."
After climbing to the highest point of the lunar-esque landscapes of the Faiallo, where it is possible to ride through snow whilst staring down at the Mediterranean, we descend again, stop for focaccia before racing back across the length of sprawling, chaotic Genova to Quarto from which we ride up through the last rural houses and into winding slopes of olive trees and Mediterranean scrubland, before the landscapes opens up onto the extraordinary vision of the sun setting across the sea, France and the entire Italian Riviera's coastlines visible as a thick black line on the horizon.
Monte Fasce offers the quintessential Ligurian aesthetic experience in 8 very brief and intense kilometres of climbing only twenty minutes from the city center.
We stop to switch on our lights then swoop back down into the city, skitching rides here and there through traffic back to the center…
Vito rides the 2023 Cinelli Pressure Triple White
Daniele rides the 2023 Cinelli XCR Disc Mirror
Cinelli Quaderni is an editorial format dedicated to exploring some of the world's most interesting riding spots, be they urban, rural, Alpine or otherwise, together with cyclists whose way of riding intertwines the landscape with a mosaic of other cultural attitudes. The way these riders express themselves when cycling reflects many of the design objectives of Cinelli products.